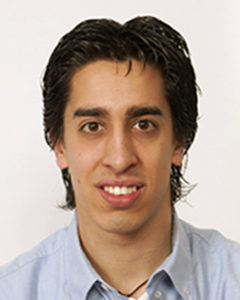 Sergio was born in Plasencia, Cáceres, in 1992 and received the Bachelor Degree in Sound and Image Engineering for Telecommunications in 2014 at Extremadura University, obtaining one of the best academic records.
In 2014 he was developing his bachelor final project at Kassel University (Germany) with an Erasmus Scholarship, where he learned and experienced with microwave circuits manufacture and measurement.
In 2016 he obtained the Double Master's Degree in Telecommunications Engineering and Multimedia and Communications at Universidad Carlos III de Madrid (UC3M).
He is currently working towards the Ph.D. degree with the Group of Radiofrequency, Electromagnetism, Microwaves and Antennas (GREMA) at the Carlos III University in Madrid. His present research interests are focused on base station broadband antennas for new generations of mobile communication systems.
Contact: sergmart@ing.uc3m.es