Why Posidonia?
Notification when a simulation ends and automatic download of results.
Automatization of tedious tasks such as the use of command line or the upload and download of files.
Repository of jobs.
Same security as the manual way.
User-friendly.
Efficient tool: without active waitings.
Mobile and multi-platform: HPCaaS (High Performance Computing as a Service).
Adaptable.
Why would I use Posidonia in my HPC system?
Very easy to use for a novice user.
Light-weight installation in the system.
Same security as the manual way.
Different profiles for different kinds of users.
Why would I learn a new tool if I already know how to use a HPC system?
The training time is much fewer than the time saved on tedious and repetitive tasks.
The tool can be easily adapted to different applications and programs.
Keep your jobs organized and easily accessible with its repository of jobs.
What is the scenario considered for Posidonia?
The most generic possible: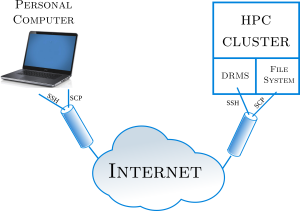 Use of secure protocols SSH and SCP.
DRMS: Distributed Resource Management System.
Compatible with VPN.