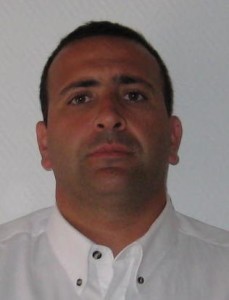 Luis-Emilio García-Castillo was born in 1967 in Madrid, Spain. He received the degree of Ingeniero de Telecomunicación and the Ph. degree from the Universidad Politécnica de Madrid in 1992 and 1998, respectively. His Ph. thesis received two prizes from the Colegio Oficial de Ingenieros de Telecomunicación of Spain and the Universidad Politécnica de Madrid.
From 1997 to 2000 he was an associate professor at the Universidad Politécnica de Madrid. From 2000 to 2005 he holds an associate professor position at the Universidad de Alcalá, Madrid, Spain. Since October 2005 he is with the Dep. of Signal Theory and Communications of the Universidad Carlos III de Madrid, Spain. His research activity and interests are focused in the application of numerical methods to high performance computational electromagnetics including finite elements, hp adaptivity, hybrid methods, and domain decomposition methods.
He has authored 1 book, 5 contributions for chapters and articles in books, 40 articles in international journals, and over 110 papers in international conferences, symposiums and workshops, plus a number of national publications and reports. He has leaded as principal Investigator five projects of the National Plan of Research of Spain, one of the regional Plan of Research of Madrid, and one with the american Air Force Office of Scientific Research. He has also participated in a number of proyects and contracts, financed by international, european, and national institutions and companies.
CURRICULUM
Curriculum Vitae English Language.
Curriculum Vitae Spanish Language -research oriented.