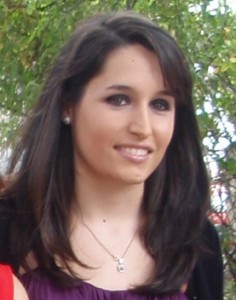 Ana was born in Madrid (Spain) on July 12, in 1991. She studied Electrical Engineering at Universidad Politécnica de Madrid (UPM) from September 2009 to June 2013. In June 2014 she was awarded with "The best academic record" at UPM by the College of Engineers in Spain.
From September 2012 to June 2013 she worked in Group of Radio Communications (GRC) at UPM analysing radio propagation in tunnels.
She is currently finishing the Double Master's Degree in Telecommunications Engineering and Multimedia and Communications at Universidad Carlos III de Madrid (UC3M).
Since February, her work is focused on miniaturized antennas and active matching in small antennas at Group of Radiofrequency, Electromagnetism, Microwaves and Antennas (GREMA).
Contact: alopez@tsc.uc3m.es